Golfing in the Punta Gorda and Port Charlotte Area
It is rare indeed that a single geographic area is nationally recognized as a top quality place to live, a top ten place to go boating as well as nationally ranked for its golf courses. Punta Gorda, Florida, is all of these, and more. In Charlotte County alone there are approximately 15 golf and country clubs, with more courses added yearly. In addition, within an easy one hour drive of Punta Gorda, you can enjoy the challenge of over 60 golfing facilities from friendly executive to challenging PGA certified golf courses.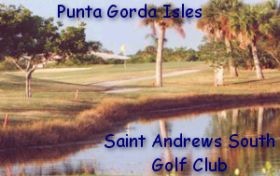 St. Andrews South Golf Club in Punta Gorda Isles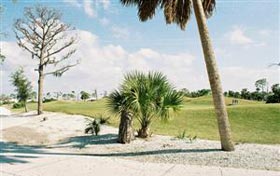 Year-round sunshine makes the South Florida area the perfect home for golfers.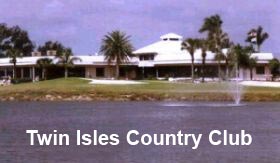 Twin Isles Country Club, Burnt Store Isles, Florida
Our yearly average temperature of 74F, combined with our sunny day average of 67%, gives Charlotte County residents access to top quality golfing year round. Many of these courses are also residential communities with resale homes for sale as well as vacant lots if you are thinking of new construction. Golf course homes and lots are plentiful in Punta Gorda and Port Charlotte.
If your passion is golf, contact us, and we'll show you around.
Listed below are a few of our local golf courses:
Saint Andrews South
1901 Deborah Drive
Punta Gorda Isles
941-639-5261
Port Charlotte Golf Club
22400 Gleneagles Ter.
Port Charlotte, FLA.
941-625-4109
Twin Isles Country Club
301 Madrid Blvd
Punta Gorda, FL
941-637-1232
King's Island Golf Club
175 Kings Hwy
Punta Gorda, FL
941-629-7800
Burnt Store Marina & Club
24315 Vincent Ave
Punta Gorda, FL
941-637-1577
Deep Creek Golf Club
1260 San Cristobal Ave
Punta Gorda, FL
941-625-6911
Seminole Lakes Country Club
26200 Stillwater Circle
Punta Gorda, FL
941-639-5440
Bobcat Trail Golf
1350 Bobcat Trail
North Port, FL
941-429-0500
Heron Creek Golf & Country Club
3401 Sumpter Blvd
North Port, FL
941-423-6955
Contact us today to help you find the perfect golf course home or lot: