Kayaking and Canoeing in the Punta Gorda and Port Charlotte Area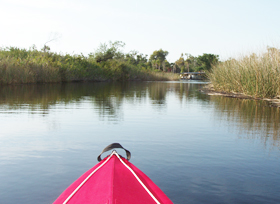 There is still plenty of "old Florida" in and around Charlotte County, and a kayak or canoe offers a great way to explore.
Charlotte Harbor is the perfect venue for one of the nations' fastest growing water sports, kayaking and canoeing. The sheltered nature of the harbor along with the countless small islands, creeks, bays and coves provide the enthusiast with over 200 miles of prime waterways perfectly suited for kayaking and canoeing.
On the last weekend in March the Charlotte Harbor Kayak and Wildlife Festival is held at the Port Charlotte Beach Complex. The Festival offers a whole range of events including a fishing tournament, guided tours of the Harbor, an outdoor expo and kayak races from 2.5 to 9 miles in length.
To help the kayaker get to know the area, the Charlotte County Parks, Recreation and Cultural Recourses Department publishes The Blueway Trails brochure which identifies 53 trails rated for difficulty, scenic value and accessibility. This guide divides the estuary into four sections: Charlotte Harbor section, Coastal section, Peace River section and the Myakka River section.
Not as well known and certainly wilder are the unmarked passageways through the dense mangrove preserve that borders the majority of the east and west walls of the harbor. Often only 10 feet or less in width they meander for miles through an environment resembling a tropical jungle with many species of birds, fish and shell mounds. With all these wonderful assets, the waters of the Peace and Myakka Rivers and Charlotte Harbor are truly paradise for the kayaker and canoeist.
If your passion is kayaking or canoeing, contact us, and we'll show you around.
Contact us today to help you find the perfect home or lot: